♥

♥
♥
VALENTINE'S DAY ♥

♥
♥
We will be offering a set menu for Valentine's Day Monday Feb 14, it will be available for carryout as a pre-order all food will be ready for pick up between 4 & 5pm. Pre Orders must be in by Thursday Feb 10. Email
Erin@lunabluofannapolis with
requests for menu changes & later pickups. If you are beyond the deadline email, she may be able to accommodate.
We will be offering a chocolate & Wine pairing available for pick up beginning Feb 1, it will be limited, pre orders are encouraged.
---
Lunch
Tuesday - Friday | 11 - 2:30 | View Menu
Dinner
Sunday, Tuesday - Thursday 5 - 930 | Friday-Saturday 5 to 11 | View Menu
Carry-Out Pizza
Available anytime we're open! | View Menu
To place your order, call us at 410-267-9950
We are currently operating with two phone lines, so during busy times please be patient with us as we process orders and payments. You can always pre-order to avoid delays!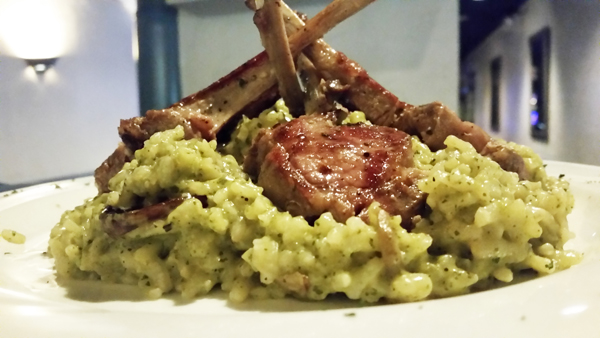 Luna Blu is an intimate Italian Restaurant located in the historic district of downtown Annapolis, Maryland. Located on the new "hot spot" addition of West Street, we offer authentic Italian cuisine in a cozy atmosphere and our friendly staff assures an excellent dining experience.

Our décor is warm, with hand-painted murals depicting Naples. Candles and blue glass accents decorate the restaurant. Fresh cut flowers line the columned archways and walls.

We offer daily specials in addition to our 4-Course dinner special offered nightly for only $45.00. Our menu includes a broad selection of appetizers, salads, pasta dishes and entrees. Our sauces are made daily and we use only the freshest ingredients to personally prepare all entrees by order. All of our desserts are made in-house including our house specialty Zabaglione. Luna Blu also offers half-price bottles of wine every Wednesday, excluding Super Tuscans.

We take great pride in our restaurant and in your satisfaction. We strive to create long-lasting memories for our guests and friends, new and old alike. Please contact us if we can answer any questions regarding Luna Blu.

We look forward to seeing you soon!
Erin Dryden, Owner Luna Blu